High Pressure Die Castings
Material Grades ( Equivalents EN, DIN and IS )

VDS No

EN

IS

JS

Alloy

226

46200

LM 24

ADC 10

ENAC AlSi8Cu3(Fe)

231

47100

LM 2

ADC 12

ENAC AlSiCu(Fe)

230

44300

LM 20

ADC 1

EN AC AlSi12 (Fe)

239

43400

LM9

ADC 3

EN AC AlSi10Mg (Fe)

349

51200

LM 10

-

EN AC AlMg9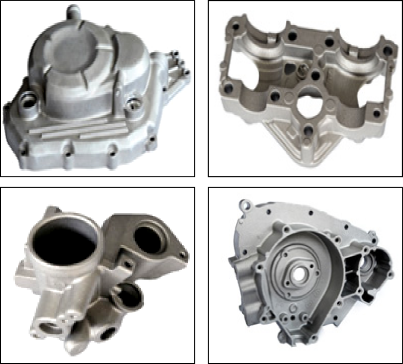 Besides all standard alloys in India, all hypereutectic as well undereutetic AlSi alloys with different mechanical properties are in use. For AL Die castings you find artificial , as well natural  aging alloys. By artificial aging alloys , vacuum dies are in use.
HPDC machines between 100-2500 T locking forces.


In special high pressure die castings, where pore class 1 till 2 require, we have capability in India.